He said to me, "My grace is sufficient for you, for My power is perfected in weakness." Therefore I will most gladly boast all the more about my weaknesses, so that Christ's power may reside in me.
2 Cor. 12:9
Welcome to our Sisters of Grace page! As 2 Cor. 12:9 states, " His grace is sufficient for you" and for any other woman who calls on His name. Isn't that amazing? Christ loves us so much that even in our weaknesses His grace gives us strength. We can do anything through His strength! Grace means that he does not identify us by our past mistakes, our ugly attitudes, or our bad days. Our identity is found in Him, all we have to do is turn our hearts and minds over to Him. The lover of our souls welcomes us with open arms. What a blessing!
As Sisters of Grace, we desire to get to know you and to love-on you, as Christ has loved on us. We have several special events planned throughout the year with the purpose of reaching women who are in need of knowing the love of our Savior. Sometimes our events are intended to help women connect and build lasting friendships, and sometimes we gather to share in the joy we find in Jesus. Whatever the purpose, we welcome you to join us on this journey.

Our monthly WMU Meeting will be held on Feb. 12th at 6:30pm. Plan to meet in our fellowship hall. ladies of all ages are welcome to attend, as we learn about and pray for missionaries who are spreadin

g

the gospel all over the world.

Sisters of Grace are invited to attend the Women of Joy Conference being held in Myrtle Beach on May 3rd-5th, 2019. The conference cost is $99 with a $25 deposit due now. Equal payments of $37 are due Feb. 17th and again on Mar. 17th to cover the remaining cost. You can contact Stephanie Stokes at the church office for information on lodging options and costs, or for any other questions. (This conference has sold out in other venues so please don't hesitate to let us know if you would like to attend. After Feb. 13th the cost of the conference goes up to $125.00.)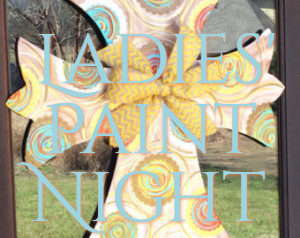 Sisters of Grace will host a Ladies' Paint Night on Tuesday, Mar. 5th beginning at 6:30pm. We encourage you to bring a friend and enjoy a couple of hours of sisterly fellowship. We plan to have a quick subs & chips supper and a time of devotion before the painting begins. We'll be painting beautiful 14″ x 20″ cross door hangers. No experience is necessary. We'll have many printed examples to help get your creative minds motivated or check Pinterest for ideas. You can bring specific colors of paint or use some that we have on hand. If you'd like a ribbon added, please bring it with you. The cost is $10 per person.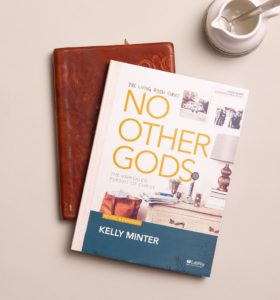 Sisters are invited to our next ladies' Sunday Bible study series beginning Sunday, April 7th at 5pm. No Other Gods by Kelly Minter is an 8 session Bible study that can help us identify the gods we may be unknowingly serving and the lies they tell. We often think of idols as ancient graven images or golden calves, but God's people still battle idolatry every day. Our idols look more familiar – money, fame, power, work, ministry, and people. We can sometimes serve these as gods above the one true God and miss the joy of following and knowing Jesus.
You are invited to come early, at 4:30pm, for a time of refreshments, fellowship, and prayer before each session begins.